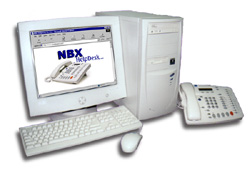 Warm White PC Workstation
Take full advantage of LAN Telephony and NBX technology. Utilize them to their fullest with the MPX business class PC workstation or PC Call Station.
Our CTI / NBX Experts are second to none. Now we offer the very best in CTI based PC Workstations and Call Stations. We build each station to suit your requirements... even down to the color!!!
Business Class Computing:
MidTower SuperCase With Deer Power Supply
Intel Pentium III or AMD processors
DFI Motherboards
High powered cooling fan
128mb PC133 SDRAM
3.5 floppy
52X CD
20 gig Hard Drive
AGP Graphics Adapter
3com 10/100 NIC
32 Bit Sound Card
Keyboard
Scroll Mouse
Extended warranties
17-inch color monitor with .27mm dot pitch
Stereo speakers or Headset w/Mic
CTI and NBX Enhanced!!
Computer Telephony Integration
Preloaded Software...
Windows98
Outlook Express
Internet Explorer 5.0
NBX pcXset Soft Phone
NBX100 Call Detail Reports
NBX Unified Messaging
NBX TAPI driver
SoftCall Recorder