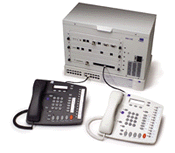 Network-based Telephony
The 3Com NBX 100 Communications System merges telephony with networking by delivering business telephone service over a data network.
To the phone user, the NBX telephone is a typical office telephone. You can use it to make and receive calls, use speed dial buttons, transfer calls, park calls, use voice mail, and so forth. Inside, the NBX telephone is an Ethernet device, which can communicate over the LAN using Ethernet frames or IP packets. (IP functionality is an optional upgrade.) The phone also serves as an Ethernet hub for your computer--you can connect your computer's network interface card to your LAN through the phone.
The core of the system is the NBX 100 Network Call Processor (NCP), one of the components that reside within the NBX 100 6-Slot Chassis. The NCP manages the processes of making and receiving calls, providing voice mail and automated attendant services, and responding to requests for special services such as access to the NBX NetSet Administration Utility, Computer Telephony Integration (CTI) services, or the system's IMAP (Internet Message Access Protocol) server.
The presence of a network operating system such as Windows NT has no effect on NBX 100 voice traffic. NBX 100 voice traffic continues without interruption if the network operating system crashes or hangs. In fact, after the call processor completes the processing required to connect two phones, the phones communicate directly with each other, which means that if power to the call processor should fail, existing conversations are unaffected. The 3Com NBX 100 Communications System is designed to provide the uptime reliability required in a business environment.